LinePro Land Surveying
Providing Southern Maine & New Hampshire With Precision & Excellence
With launch points currently located in Shapleigh, Maine; Berwick, Maine; and now Newmarket, NH; LinePro Land Surveying is committed to providing Maine and New Hampshire with a wide variety of surveying services. With over 20 years of experience serving the people of Maine & New Hampshire, LinePro's staff has the experience and vision necessary to tackle a wide range of land surveying projects.
LinePro's work in Maine is completed under the watchful and attentive eye of Joseph L. Stanley, Maine Professional Land Surveyor #2453. Joe has worked as a land surveyor in the Southern Maine area full time since 2002, and specializes in Traditional Boundary Surveys, Deed & Records Research, FEMA Flood Surveys, and RTK GPS use. Before entering the field of land surveying, Joe graduated from the University of Maine at Orono with a degree in Spatial Information Engineering.
Bridging the gap for LinePro between Maine & New Hampshire is Dustin Morrill, Project Manager. Dustin has over 12 years of experience providing a wide range of surveying services throughout Southern Maine & New Hampshire. Dustin has performed many Boundary Surveys, As-Built Surveys, and Construction Layouts at numerous residential and commercial locations over the years. His very down-to-earth and professional approach has created a very great relationship for LinePro with many of the local contractors and builders who utilize our services.
LinePro is proud to annouce that it has joined forces with Scott Boudreau, LLS of Newmarket, New Hampshire to provide it's top-notch survey services to patrons of New Hampshire as well as Maine. Scott began his surveying career in 1999 after graduating with a Bachelor's degree in Forestry from the University of New Hampshire.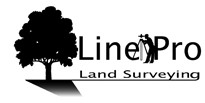 Current Logo Design created by Justin Sproul of Massabesic High School, and the Sanford High School Vocational Program! Thank you for your continued local support!